Transportation Infrastructure and Environmental Regulation
Photo by Henrik Schnabel/CC BY-ND 2.0
Article by Anna Kulangara
On May 17, 2017, the Senate Committee on the Environment and Public Works (EPW) held a hearing on our nation's transportation infrastructure needs, with the Secretary of the U.S. Department of Transportation, Elaine Chao. The hearing primarily focused on fiscally related issues of transportation infrastructure, however, Chao did mention the Department of Transportation's awareness of environmental regulations.
Senator John Barrasso (R-WY), Chairman of the EPW asked Chao, "Given your existing authorities, could you talk a little bit about your vision to streamline the regulatory process to accelerate the delivery of infrastructure projects?"
Chao responded, "All of us care about the environment and we care about all construction projects and that they should be conducted in a way that is responsible. But, as we examine the permitting part of construction projects, many times there are duplicative and redundant requirements that impede approvals for construction projects."
"We are looking at those redundancies and seeing whether there is some way, where it would be appropriate to do things concurrently, and not so much sequentially," she continued.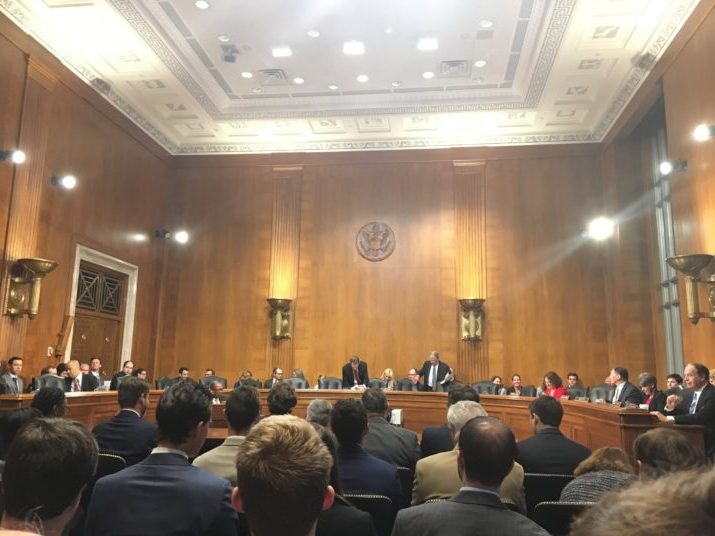 Several senators expressed environmental concerns regarding transportation infrastructure. Senator Sheldon Whitehouse (D-RI) expressed his apprehension concerning rising sea levels. As sea level projections accelerate, he explained, we need to invest in accurate predictions to make optimal decisions on building infrastructure.
Additionally, Senator Kirsten Gillibrand (D-NY), voiced her opposition of the transport of crude oil by rail, especially so close to the Hudson river. She raised questions on safety risks and regulation, to which Chao responded with, "Safety is number one," ensuring that the Department of Transportation would make an effort to address those concerns.
The current administration's primary infrastructural agenda is to streamline environmental regulation to reduce barriers and quicken construction of projects. Per Chao, the Department of Transportation has started to take a renewed look at the permitting process so it no longer hinders progress of construction.
In a separate EPW hearing on May 3, 2017 on project streamlining, former U.S. Department of Transportation Deputy Secretary, John Porcari, testified that environmental review is not the primary cause of delay for most infrastructure projects.2
"The overwhelming evidence shows that the causes of delay for these major projects are more often tied to local/state and project-specific factors, agency priorities, project funding levels, local opposition to a project, project complexity, or late changes in project scope. The single most important action Congress can undertake to accelerate project delivery is to provide steady, long-term, and predictable funding," said Porcari in support of Obama-era environmental regulations.
"We all have to find the right balance of reforming the permitting and review process while maintaining critical environmental and community protections," said Porcari.
References
[1] Infrastructure Week. "Infrastructure Week 2017: One week. One call to action. Many voices, united."
http://infrastructureweek.org/about/
[2] Infrastructure Project Streamlining and Efficiency: Achieving Faster, Better, and Cheaper Results, Committee on Environment and Public Works U.S. Senate Cong., 2,9 (2017) (testimony of John D. Porcari).
https://www.epw.senate.gov/public/_cache/files/34440ad4-ddda-479e-ba61-eb0523c912f8/john-porcari-testimony-05.03.2017.pdf