STEM 101: Climate literacy should be a permanent part of the K-12 curriculum
Photo by the Times Sentinel
Carly Nicholson | August 3, 2016
In a world where climate isn't an everyday topic of conversation, Americans seem to be more concerned than ever about the fate of the planet. Gallup reports an "eight year high" in the number of US citizens who are concerned about global warming.10 Continuing to keep the public mindful of climate change begins with educating our youth. Increasing children's proficiency in the STEM (science, technology, engineering and mathematics) fields is one way to improve the public's climate literacy.
Although Americans are increasingly worried about climate change, it seems only small steps are being taken to combat it. The relative lack of progress could be due to the fact that many people aren't sure what they can do to make a difference. Without a large-scale education effort, it will continue to be difficult to effect positive changes in our national environmental policies.
How are we doing now?
Few studies have been done on the correlation between early STEM education and student's beliefs as adults. However, both parents and teachers agree that environmental education is important.1 Unfortunately, if we look at the K-12 education system, it becomes clear that there are many areas that need improvement, including what teachers themselves are taught before entering the classroom.
Collegiate education is no different than K-12 in that the federal government doesn't set specific standards on environmental education3 (although earth systems are heavily stressed in the National Science Education Standards, environmental science, civics and climate change are absent.)4 As school teachers leave college in pursuit of a job, it is evident that universities often do not cover enough science in their education programs. In fact, only 10% of teachers have specific training in environmental science, and only one in four was required to take any form of environmental science course before graduating.1 According to a survey conducted by the North American Association for Environmental Education and the Environmental Literacy Council in 2000, teachers reported spending just 50 hours per year on environment-related lessons. Given an average school year of about 1,200 hours, that equals just 4% of the school year, a number that needs to increase.1
STEM
Though it appears many school districts have taken a back seat on developing interest in the planet through STEM education, others are excelling. A survey conducted by the IU School of Education emphasizes a majority of respondents claim their "first interest in STEM came before sixth grade;" however, students who reported becoming interested in STEM during or after middle school were more likely to pursue a career in science, technology, engineering, or math.6 In either case, the IU study suggests that the early exposure to the sciences is crucial to fostering a lifelong interest in STEM. The United States needs to focus more time and money on providing children the opportunity to build a solid foundation in fundamental principles of STEM, including climate change.
In recent years, some states and individual school districts have started to work on their deficiencies in STEM by implementing new guidelines. These plans often attempt to focus more on the student and their needs versus the traditional "boring" memorization method.5 Indiana, Washington state, and California in particular have made significant progress in promoting STEM education. These states and others are just some examples of the work being done to improve our nation's education system.
Indiana:
Until March 2016, Indiana students were assessed on their basic skills in reading, writing and mathematics via ISTEP.11 In 2011, samples taken from the NAEP indicated that only 34% of 8th graders passed the chief math exam.5 Scores like these were one of many indications that the state had some work to do in producing more well-rounded individuals prepared to excel at the collegiate level and beyond.
In 2013 a new academic standard was implemented, which included a program for elementary and secondary schools to become certified in STEM. To date, 12 schools in the Hoosier state have earned the prestigious certificate. Zionsville Community Schools in central Indiana are the only district in the state to earn certification for all of its elementary schools: Boone Meadow, Pleasant View, Eagle, Stonegate and Union.7
Speaking from experience, Zionsville Community Elementary Schools support the STEM certificate mission which is to, "(1) provide resources and support to schools in order to enhance science, technology, engineering, and math curriculum with a greater emphasis on discovery and relevant workforce skills; and (2) outline methodologies necessary to ensure its successful implementation."5 Zionsville Community Elementary Schools participate in a yearly high altitude balloon launch with the University of Indianapolis. Each school purchases a pod, cameras and a raspberry pi. They are challenged to collectively come up with an object to launch in their pod. The idea with this project is to encourage the youngsters to think critically about their payload, analyzing all possible outcomes of the experiment. Pre-launch lessons included basic atmospheric science, which introduced the young scientists to a bigger-picture way of viewing the world.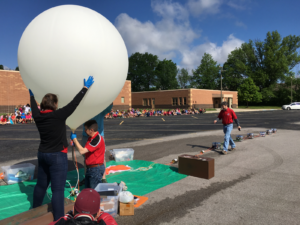 Elementary students at Zionsville Community Schools watch their high altitude balloon experiment. May 2016. Photo by the University of Indianapolis Physics and Earth-Space Science department.
In addition, some of the K-4 children engage in "genius hour," where they are encouraged to ask questions about the world around them. Then, teachers prepare lessons (on the fly) related to that subject matter: one day students might be curious about bugs, the next rocket ships. Students are also encouraged to participate in the annual "STEM Night," where students and their families come after school hours to engage in STEM related games and activities alongside siblings and parents.9
Washington:
Schools in Washington State boast an "Integrated Environmental and Sustainability" agenda featuring lessons in Earth and human activity, as well as energy and civics—a practice not widely adopted.12 Washington, which is home to 3 national parks and a host of green jobs, places a "high value on environmental stewardship and sustainability," a commitment that is passed on to the state's students via this plan.12 In 1991, the state enacted legislation requiring interdisciplinary lessons in conservation, natural resources and the environment at all grade levels.13 Overall, environmental literacy is at the forefront of the state's education system. Since its implementation, test scores in other areas of study have risen, proving the program's value.12
With an interdisciplinary learning strategy, it is up to the teachers and staff to create a curriculum that can be assessed within the core subjects— tying environmental policies into social studies, for example, or integrating natural resource-themed word problems into math class. The three standards in which each student should be proficient are:
"Standard 1: Ecological, Social, and Economic Systems
Standard 2: The Natural and Built Environment
Standard 3: Sustainability and Civic Responsibility"12
California:
Two schools in Carlsbad, CA just finished their first year with a STEM-focused curriculum, Calavera Hills Elementary School and Calavera Hills Middle School. These schools already feed into a STEM-focused high school, Sage Creek, which specializes in "offering pathways for engineering and biomedical science studies."8 The districts wanted more students to start on the same level, so the playing field is even. The hope is to get all students in matched positions for high school where they can potentially choose a STEM field of interest and continue on with it onto the collegiate level.8
How we can improve
The United States ranked 20th in the number of 24 year olds who obtained a first degree in an area of STEM specialty back in 2000.1 Although K-12 curricula are not federally regulated in the United States,3 states like Washington are stepping up to the plate. Simply getting kids reducing, reusing and recycling at an early age can make such a huge impact not just for the planet, but for individual communities.
Realistically, federal law isn't going to change tomorrow. States will probably remain in control of their academic standards for a long time to come, meaning that they will be primarily responsible for finding ways to engage kids in enriching, environmental science activities.
A few suggestions:
Add interactive after school clubs for kids. Nature Club or a Green Club. Plant trees, bring in guest speakers and animals. Keep kids hands-on in their learning.
Institute more field trips. Aquariums, local parks and natural history museums are great places to hop outside of the normal classroom lesson and get some outside exposure to new ideas.
Contact a local college. University kids in STEM are usually eager to relay their knowledge to others, especially budding scientists!
Invite special guest lecturers to class. Teachers: reach out to a cool friend from college who shot off rockets back in the day, prepare a fun physics lesson.
Encourage community volunteer service. Get your school involved with organizations like KIB (Indy).
Conclusion:
STEM education is an important component in improving students' environmental literacy. Global climate change is a complex, global problem, but each of us can reshape small aspects of our lives to make a difference. Reaching students is the first step in making combatting climate change seem less overwhelming. Understanding the atmospheric chemistry of both natural and anthropogenic emissions makes people more aware of their daily actions. Being taught simple definitions in a hands on, interactive setting gets students excited. Offering a fresh perspective and making relevant connections to student's lives provoke interest.
The best thing we can do for generations to come is to tell the Earth's story in hopes it will strike a chord. Looking out upon the horizon at a blush colored sunset, or into the dreary abyss of a thunderstorm is enough to motivate some to take part in simple environmentally friendly rituals, while others might need others need more of a nudge. Whatever the case, each inhabitant of this magnificent planet possesses a responsibility for environmental stewardship, but without solid background information, they can't be expected to properly fulfill that responsibility. A STEM savvy workforce will propel the nation in a positive direction. Praising outstanding programs like the ones noted above is a small step, but even small effects can add up to something big.
References:
Coyle, Kyle. Environmental Literacy in America. September 2005. PDF. http://eric.ed.gov/?id=ED522820
"Effects on People and the Environment." US Environmental Protection Agency. March 3, 2016. Accessed June 28, 2016. Web. https://www3.epa.gov/climatechange/kids/impacts/effects/.
"Federal Role in Education." Federal Role in Education. February 13, 2012. Accessed June 20, 2016. Web. http://www2.ed.gov/about/overview/fed/role.html.
Hollweg, Karen S., and David Hill. What Is the Influence of the National Science Education Standards?: Reviewing the Evidence, A Workshop Summary. PDF. http://www.csun.edu/science/ref/curriculum/reforms/nses/nses-content-standards.pdf
Indiana's Science, Technology, Engineering, and Mathematics (STEM) Initiative Plan. 2012. PDF. http://www.doe.in.gov/sites/default/files/ccr/indiana-framework-stem-educationv2.pdf
"IU Bloomington Newsroom." Reasons for Students Pursuing STEM Fields Are Varied, IU Study Finds: IUB Newsroom: Indiana University. November 24, 2014. Accessed June 24, 2016. Web. http://news.indiana.edu/releases/iu/2014/11/stem-education-interest.shtml.
Lang, Sarah. "Ritz Honors Zionsville Schools for STEM Certification." Timessentinel.com. March 16, 2016. Accessed June 20, 2016. Web. http://www.timessentinel.com/news/local_news/ritz-honors-zionsville-schools-for-stem-certification/article_a8fe1cd3-acad-55ae-aaf1-f1d79c0f0426.html.
Maio, Pat. "Carlsbad Unified Schools Expanding STEM Curriculum." The San Diego Union-Tribune. June 3, 2015. Accessed June 27, 2016. http://www.sandiegouniontribune.com/news/2015/jun/03/carlsbad-unified-stem-calavera-hills/.
Pleasant View Elementary PTO. "STEM Night Success." Pleasant View Elementary PTO. May 12, 2016. Accessed June 27, 2016. Web. https://pvepto.com/2016/05/12/stem-night-success/.
Saad, Lydia, and Jeffrey M. Jones. "U. Concern About Global Warming at Eight-Year High." Gallup.com. Accessed July 03, 2016. http://www.gallup.com/poll/190010/concern-global-warming-eight-year-high.aspx.
Schneider, Chelsea. "Indiana Scraps ISTEP but Will Its Replacement Face a Political Test?" Indianapolis Star. March 27, 2016. Accessed July 29, 2016. http://www.indystar.com/story/news/education/2016/03/27/indiana-scraps-istep-but-its-replacement-face-political-test/82205196/.
Wheeler, Gilda. Integrated Environment and Sustainability. 2014. Washington State Learning Standards. PDF. http://www.k12.wa.us/environmentSustainability/pubdocs/ESEStandards.pdf