Carly Nicholson | June 1, 2016
If you're in college, you know summer is prime time for internships, Research Experience for Undergrads (REUs) and summer classes. It's basically a three-month period to cram in as much experience towards your degree as possible to alleviate some stress throughout the following fall and spring terms. I managed to organize my time in such a manner that I was able to efficiently do all three. I was honored to be chosen as an intern with the Climate Institute, picked up a general physics II class and was offered the opportunity to work alongside experts in atmospheric and environmental science. It wasn't technically an REU, but from what I gather this was like a shortened version of an REU. The knowledge and relationships I gained along the way are invaluable, especially as I plan to set my sights on graduate school in a year.
Harvard and the University of Munich (Germany) sent graduate students and professors to Indianapolis for the sole purpose of looking at greenhouse gases in the area. The campaign hoped to collect data to determine the amount of methane and carbon dioxide emitted by the city. Previously, the Hoosier city hosted other studies on greenhouse gases which include the INFLUX and Vulcan projects, making it the perfect host for the study.
Generally speaking, it's important to monitor greenhouse gases. GHGs come from two different sources: anthropogenic (human induced) and biogenic (naturally occurring). The process by which GHGs warm Earth is called the greenhouse effect where these gases prevent the escape of heat back into space. When sunlight makes its way to Earth one of two things can happen, either it is reflected back or absorbed. Understanding how much and what GHGs are occupying the atmosphere is important because that trapping of heat can cause changes in Earth's climate. Policy makers use data from studies such as this one to make decisions in city, state and national planning.
I worked alongside five other undergraduate students, all of various scientific backgrounds. The first part of the two week campaign was spent listening in on meetings, learning about the equipment, calibrating instrumentation and participating in workshops hosted by an esteemed professor from the School of Engineering and Applied Science/Department of Earth and Planetary Science at Harvard. Most work the first week was done on my stomping grounds, the University of Indianapolis. Towards the end of week one we deployed to six sites across Indy.
EM27 open path FTIR spectrophotometers and Picarro Cavity Ring Down Spectrometers (CRDS) were used to determine which greenhouse gases were present in the atmosphere. The EM27s also told us how much of the gas was present. I was brought on the project as the "balloon girl," since my personal research includes high altitude ballooning and the campaign planned for various balloon measurements. At the NE site a helikite was used to gather wind data by means of an Airmar WX 200, which is usually found on ships because it naturally cancels out motion (like sea waves, though in this case was handy in getting an accurate measurement in the stirring atmosphere). The helikite was a means of collecting wind data, combined with information from the EM27s we could determine where the methane was moving. Windsonds were also launched during the course of each field day. The Windsonds measure basic meteorological parameters including wind direction and speed.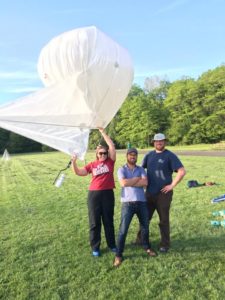 Overall, we saw four and a half semi cloudless days (clouds interfere with measurement). I enjoyed manning the helikite and launching balloons across the city. My team consisted of Taylor Jones and Cody Floerchinger, graduate students at Harvard and fellow UIndy Greyhound Laiken Harper. Friendly banter, Culvers and nerd talk filled our time while measurements were taken. I have nothing but positive things to say about my time working on the Indy ACE (Atmospheric Composition Experiment) 2016 greenhouse gas emissions campaign. I was challenged to manipulate and analyze data in new ways and to apply my knowledge to draw conclusions. As an undergraduate group we were also invited to present a poster at the UIndy Student Research Institute which gave us an opportunity to communicate the things we had learned to others. I'd like to close this post by thanking the department of Chemistry at UIndy, Harvard and the University of Munich for providing me with this experience.
                                           Works Cited
"Cavity Ring-Down Spectroscopy (CRDS)." Picarro, Inc. Accessed May 24, 2016. https://www.picarro.com/technology/cavity_ring_down_spectroscopy.
"Causes of Climate Change." Causes of Climate Change. Accessed May 26, 2016. https://www3.epa.gov/climatechange/science/causes.html
"EM27 Open Path FTIR Spectrometer from Bruker Optics." Labcompare. Accessed May 24, 2016. http://www.labcompare.com/116-Infrared-Spectrophotometer-IR-FTIR-Spectrometer/56666-EM27-Open-Path-FT-IR-Spectrometer/.