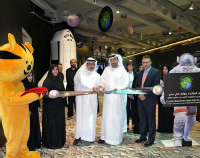 In June, the Children's City museum in Dubai opened its Earth Sciences Gallery. Designed in partnership with the Climate Institute, the Earth Science Gallery teaches children about the earth's history and climate.
By the Climate Institute
California is in a state of emergency. As the state grapples with its fourth year of drought, the total amount of water stored in its twelve major reservoirs stands at only at forty-two percent of the historical average.
By Hanna Stroud